Patriot Group International Sponsors 2016 ISOA Summit
CHANTILLY, Va. (Oct. 13, 2016)—Patriot Group International is proud to sponsor the 11th Annual ISOA Summit.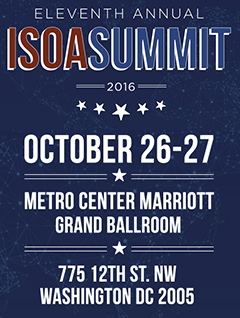 ISOA is a global partnership of private sector and nongovernmental organizations providing critical services in fragile environments worldwide.
Its mission focuses on promoting ethical standards in operational contractor support, building key relationships in the stability operations space, advocating for effective utilization of private sector services in fragile environments and facilitating business development opportunities.
"ISOA members and partners are committed to the accountability, transparency and ethics we so need in our industry," said PGI CEO Greg Craddock. "We're proud to be involved with an organization that holds itself to the highest standards while supporting stability operations worldwide."
Greg serves as Vice Chairman of the organization. As part of his role, Greg represents the mission support services business segment and small business interests.
This year's conference will address policy and operational issues, including: contract procurement with Air Force contracting command and other contracting commands, bid protests and LPTA, competition strategies for small businesses, international responses to emerging and existing global threats, industry standards and compliance and more.
The event brings together hundreds of government, military, private sector and academic attendees.
The conference will be October 26-27. Learn more by visiting isoasummit.net.
Location
Metro Center Marriott – Grand Ballroom
775 12th St. NW
Washington, DC
2005